€

150.00

EUR
【SET: Vol.1 -Vol.6】 ZINE: TOKYO STREET (INCLUDING SHIPPING COST)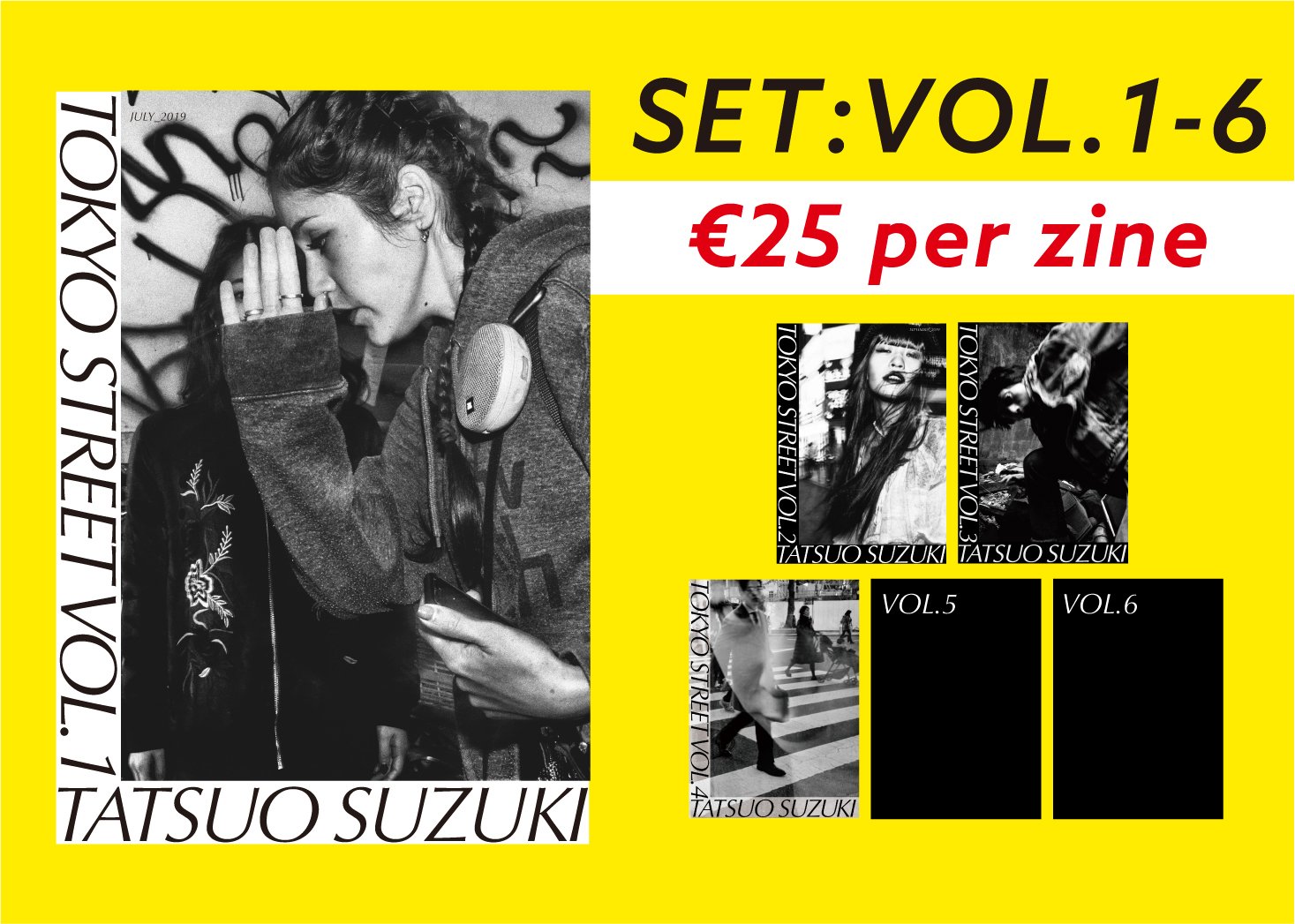 【SET: Vol.1 -Vol.6】 ZINE: TOKYO STREET (INCLUDING SHIPPING COST)
2020/10/01
We restock the zines returned an event.
Remaining 2 (2020/10/22)
** ** ** ** ** ** ** ** ** ** ** ** ** ** ** ** ** ** **
Please be sure to check the following.
You can purchase them, but some places cannot be shipped. If you purchase it, we will keep it in stock and deliver it as soon as the acceptance of Japan Post resumes.
↓↓Shipping is available in some countries. ↓↓
[As of 11 Sep. 2020]
Iceland, Azerbaijan Alba, Albania Armenia, Anguilla, Andorra, Italy, Indonesia, United Kingdom, Egypt, Estonia, Austria, Netherlands, Netherlands Caribbean region, Cape Verde, Guernsey, Kazakhstan, Qatar, Gadrup, Canada, Gambia, Cambodia, North Macedonia, Guinea Bissau, Curacao, Cook, Greenland, Croatia, Kosovo, the Democratic Republic of the Congo, Samoa, Sao Tome and Principe, San Marino, Gibraltar, Jersey, Singapore, Sint Maarten, Switzerland, Sweden, Sudan, Spain, Suriname, Sri Lanka, Slovakia, Slovenia, Equatorial Guinea, Serbia, Saint Helena, Thailand, South Korea, Taiwan, Tajikistan, Czech Republic, China, Tunisia, Denmark, Germany, Turkey, New Zealand, Norway, Vatican, Hungary, Pitcairn, Philippines, Finland, Faroe Island, Falkland Islands, France, Bulgaria, Vietnam, Belarus, Belgium, Poland, Bosnia and Herzegovina, Portugal, Hong Kong, Macau, Malta, Malaysia, Isle of Man, Mexico, Monaco, Montenegro, Latvia, Lithuania, Liechtenstein, Liberia, Luxembourg, Lebanon
*Unfortunately, we cannot deliver from the Japan post office to those countries, Yemen, Guatemala, Somalia and Libya.
** ** ** ** ** ** ** ** ** ** ** ** ** ** ** ** ** ** **
日本在住の方はこちらからお申し込みください。
For customers living in Japan
→tatsuosuzukicom.stores.jp
:::::::::::::::::::::::::::::::::::::::::::::::::::::::::::::::::::::::::::::::::
With this great deal, you can get one year's worth of 6 zines for only €25 per zine (regular price €29.5).
We will send out the ZINE and bonus goods.
:::::::::::::::::::::::::::::::::::::::::::::::::::::::::::::::::::::::::::::::::
◆【 ZINE(+appendixes)×4】
100pages / B5size (257×182mm)
・TOKYO STREET VOL.1 July_2019
・TOKYO STREET VOL.2 September_2019
・TOKYO STREET VOL.3 November_2019
・TOKYO STREET VOL.4 September_2020
【Estimated shipping date】
[ Winter 2020-21 ]
・ TOKYO STREET VOL.5
・3 Prints
・ Poster(text)
[ Spring 2021 ]
・TOKYO STREET VOL.6
・3 Prints
・Poster(text)
*Please note that the size and shape of "Extra issue" are subject to change.
*Your order will be shipped via airmail with a tracking number.
*This project was originally planned to be published every other month, but due to the impact of COVID-19 on the upcoming fall/winter season, the schedule has not been finalized. I am currently aiming to complete the project by the spring of 2021, but there may be delays depending on the viral situation.